History
Since its inception in 1977, the International Paper Money Show was known only as "Memphis" to the fraternity of collectors and dealers that cherishes this time-honored tradition as the granddaddy of our hobby. Until 1977, the only show that captured great interest for currency dealers & collectors was the annual ANA convention, an expensive event by all standards that was designed by and for coin collectors. Memphis was different from the start with dealers bringing special material that would keep collectors excited for weeks preceding the event well through the end of the summer.
The biggest and the best of all currency collectors have made the trek to Memphis to share their passion for paper money. It is that passion and the treasurehunt for notes, educational events, meetings, SPMC breakfast, bourse floor, auctions, exhibits and camaraderie that keep collectors coming back. The bourse was packed at the Rivermont in 1977 and everyone in attendance can tell you to this day what has made Memphis so special to them.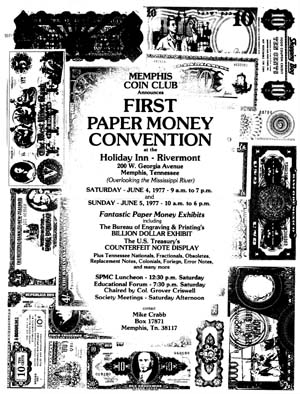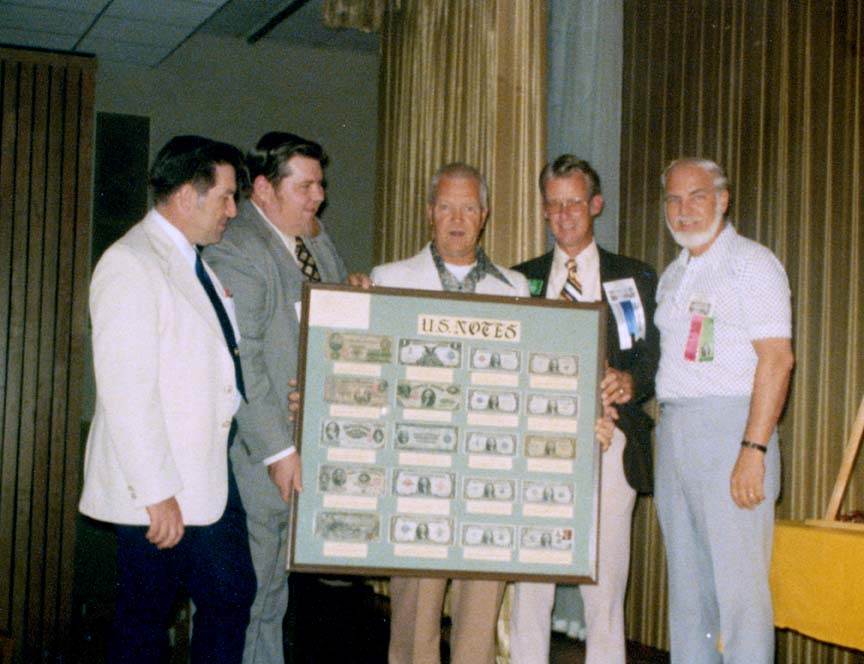 Sometime in the mid-1970s Mike Crabb approached me and asked about the need for a paper money show. I completely agreed with him at the time and we both began work on the concept of our own show for paper money.
When I walked into the Rivermont Hotel in 1977 it was perfectly clear – this was THE place to talk paper money. Collectors from everywhere were sitting on both sides of the aisle and conversation often continued long after midnight. John Hickman would hold court for NBN collectors expounding views on everything and his wisdom was shared with any who would listen.
The first show was awash with celebrities of the currency trade. During those early years I believe that all the greats attended: Wm. P. Donlon, L.S. Werner, A. Bebee, Amon Carter, Jr., Tom Bain, John Hickman… And a handful of us are still attending, exhibiting, speaking, learning, or just enjoying the hobby that we call bank notes, paper money, bills or any number of other words that express our passion.
John Rowe recalls fondly that he, Tom Bain and Amon Carter, Jr. never left the hotel, instead choosing the restaurant at the Rivermont. For decades I had the pleasure of enjoying opening night at the Rendevous with a group of NBN collectors where the stories were great and the ribs filling. The 'coat and tie' crowd loved Justines, and though I never took the time to share the experience, I know the "talk" was there, too.